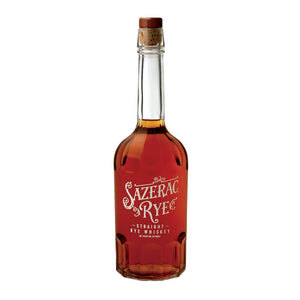 Tasting Notes for Sazerac Rye Whiskey
Nose: Sweet with spices and stem ginger in syrup. Orange zest, freshly ground black pepper and mixed peels.
Taste: Thick, spicy palate with notes of Seville orange marmalade and allspice. Peanut butter, toffee and barrel char develop later on.
Finish: An oily, spicy finish.
The One and Only New Orleans Original. Sazerac Rye Whiskey symbolizes the tradition and history of New Orleans. Rye Whiskey that dates back to the 1800's, around the time when saloons, veiled as Coffee Houses, began lining the streets of New Orleans. It was at the Sazerac Coffee House on Royal Street where local patrons were served toddies made with Rye Whiskey and Peychaud's Bitters. The libation became known as the "Sazerac" and America's first branded cocktail was born. This is the whiskey that started it all."

Numerous awards, here's a sample:

91 points - "Best Buy" - Wine Enthusiast Magazine, Feb

2019 Silver Medal - San Francisco World Spirits Competition

2018 Silver Medal - New York International Spirits Competition

2018 Silver Medal - North American Bourbon & Whiskey Competition

2018 Gold Medal - Los Angeles International Spirits Competition

2018 Gold Medal - San Francisco World Spirits Competition

2018 Trophy Finalist; "Great Value;" "Tried & True" - 94 points - Ultimate Spirits Challenge

Sazerac Rye is produced by Sazerac Company, Inc. at Buffalo Trace Distillery. Sazerac is headquartered in New Orleans, and was founded in the 1800's. According to the company, it started with the cocktail, then the bar, then the company. Antoine Peychaud, a Creole immigrant, would mix brandy, absinthe, and bitters he created at his pharmacy located in the French Quarter. The cocktail became popular at the city's "coffee houses," which was the term used for drinking establishments at the time. Peychaud's concoction became most strongly associated with one coffee house in particular, the Sazerac Coffee House located on Exchange Alley. The coffee house's owner, Sewell Taylor, institutionalized the drink by using only Sazerac de Forge et Fils brandy, which he imported to the U.S. and sold exclusively. This cocktail earned its name as a result. Thomas H. Handy acquired the Sazerac Coffee House in 1869, and then Peychaud's bitters in 1873. Thereafter in the 1890s, his company bottled and marketed the Sazerac cocktail, which is now made with rye whiskey as opposed to brandy. C.J. O'Reilly, Handy's secretary, chartered the Sazerac Company.
Buffalo Trace Distillery, in Frankfort, Kentucky, claims to be the oldest continuously operating distillery in the United States. Records indicate that distilling started on the site that is now the Buffalo Trace Distillery in 1775 by Hancock Lee and his brother Willis Lee who died in 1776, with the first distillery being constructed in 1812 by Harrison Blanton.

In 1870 the distillery was purchased by Edmund H. Taylor and given its first name, the Old Fire Copper (O.F.C.) Distillery. Taylor sold the distillery eight years later to George T. Stagg and in 1886, Stagg installed steam heating in the storage warehouses, the first climate controlled warehouse for aging whiskey in the US. Albert B Blanton, who Blanton's whiskey is named after, joined the O.F.C distillery in 1897 as an office boy and would go on to devote more than 55 years to producing, protecting and promoting fine Kentucky straight bourbon whiskey, eventually becoming president of the distillery, now called the George T Stagg distillery, in 1921. Under Col. Blanton's direction, the Distillery survived and even thrived through Prohibition, the Great Depression, a devastating flood and numerous other challenges throughout the early 20th century.

Elmer T Lee was hired by Albert B. Blanton in 1949, and 35 years later was tasked with creating a bourbon of exceptionally high quality. With careful reflection, he recalled the earlier days of his career in the late 1940s when he worked under Colonel Albert B. Blanton. Colonel Blanton was the president of the distillery until 1952. Mr. Lee remembered that when Colonel Blanton would entertain dignitaries and other important guests he would handpick "honey barrels" from the center cut of Warehouse H and have that bourbon bottled one barrel at a time. As a tribute to Colonel Blanton's old tradition, Elmer T. Lee decided to name this new bourbon "Blanton's Single Barrel".

The Distillery went through several changes of ownership and name before finally being bought by the Goldring family who renamed it the Buffalo Trace Distillery after an ancient buffalo crossing on the banks of the Kentucky River in Franklin County, Kentucky in 1992.

| | |
| --- | --- |
| Producer | Buffalo Trace Distillery |
| Style | Straight Rye Whiskey |
| Age | 6 years, aged in virgin American white oak |
| Volume | 75CL |
| ABV | 45% |