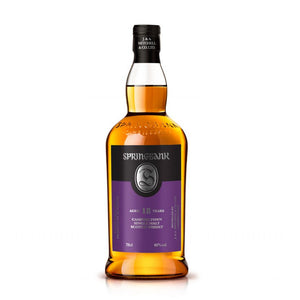 Tasting Notes for Springbank 18 Year Old Single Malt
Nose: Lemon meringue pie, pear skin, olive oil, almonds and digestive biscuits. A typical Kintyre coastal brininess comes to the fore.
Palate: In the background; dried bananas, cocounut shavings and butterscotch. The more prominant; carrot cake, treacle and freshly squeezed limes engulf the palate.
Finish: Very delicate; liquorice, gingerbread and Madagascar vanilla. Closely followed by mint, trinity cream and vanilla milkshake.
Springbank Distillery is the oldest independent, family-owned distillery in Scotland, legal distillation beginning in 1828. The chairman is Hedley Wright, the great, great grandson of John Mitchell, the first legal distiller of Springbank whiskey. There are few Scottish distilleries that still malt their own barley, but Springbank is the only distillery which malts 100% of its own barley, using traditional floor malting. The whole production process: malting, milling, mashing, fermentation, distillation, maturation and bottling, happens on one site in Campbeltown. This is unique in Scotland. With a character all of its own, thanks to the use of lightly peated barley and a unique two-and-a-half-times distillation process, Springbank is beloved by malt-heads for its complex, full bodied maritime whiskies, made in the old school style.

A rusty copper colour, Springbank 18-year-old is full of authority and is truly a classic, full-bodied dram. With a delicious nose, this whisky will tempt you in and hold your attention as you uncover its unique palate and finish. Bottled at 46% abv, and as with all Springbank products, this malt is non-chill filtered, and it contains no added colouring.


Springbank Distillery was founded by William Reid in 1828 and was built on the site of the previously illicit still used by Archibald Mitchell. Like many smugglers, Reid didn't survive long once he joined the legitimate trade and in 1837 financial troubles forced him to sell the distillery to his in-laws John and William Mitchell. The distillery has been in the hands of the Mitchell family ever since and is now ran by current Chairman, Hedley G. Wright, John Mitchell's great, great grandson – the fifth generation of the Mitchell family to own and manage Springbank.

The 19th and early 20th centuries were a boom time for the Campbeltown area where Springbank is located. Thanks to a fast sea crossing to Glasgow and a small coal seam at nearby Machrihanish it became Scotland's whisky capital. At some point or other there were 35 distilleries operational. The style tended to be medium- to heavy-bodied, with some smokiness and an oily texture (though each distillery would work its own variation on this theme). The distilling trade, however, collapsed in the 1920s. All of Scotland was affected with 50 distilleries closing, but Campbeltown was disproportionately affected, with only Springbank, Glen Scotia and Hazelburn surviving the Great Purge. By the 1960s only Springbank and Glen Scotia were left.

That is not to say Springbank was immune to the vagaries of the whisky trade. Despite beginning to build a reputation as a single malt, Springbank was mothballed between 1979 to 1987. On reopening, owner Hedley Wright made the momentous decision to no longer sell to blenders, but develop single malt sales. Maltings were re-opened in 1992 and while the combination of managing limited stocks – the result of the mothballed period and somewhat over-eager sales of what was left – it has taken a number of years to get the Springbank range fully balanced, which now it is. It remains, deservedly, one of Scotland's cult malt whiskies and a template for many new distillers.

The Springbank distillery produces three uniquely different Scotch single malts: Longrow, Hazelburn and Springbank. The difference is achieved by using Springbank's three stills in different combinations as well as adjusting the peat levels. Longrow is the most traditional of the three; well-peated and distilled twice. Hazelburn is bereft of peat and enjoys a triple distillation and Springbank is lightly peated and, rather curiously, distilled two-and-a-half times. Both Hazelburn and Longrow have been revived recently after a few years of silence and both are named for ancient distilleries adjacent to the site.


| | |
| --- | --- |
| Producer | Springbank Distillery |
| Style | Campbeltown Single Malt Scotch Whisky |
| Age | A minimum of 18 years |
| Volume | 70CL |
| ABV | 46% abv |