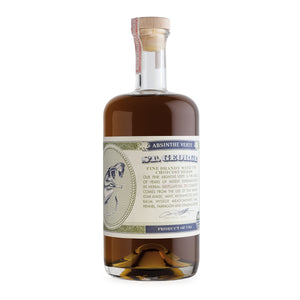 Tasting Notes for St. George Absinthe Verte
Aroma:  Crisp anise and heady floral notes. A touch of vegetal nettle notes. Sweet, refreshing lemon.
Taste: Intense wormwood is evident at the core of this one. Earthy hyssop and fennel arrive alongside. Authentic anise all the way through.
Finish: Lasting anise and a slight touch of bitter herbs. Lemon balm lingers for a good while afterwards.
Absinthe was banned from commercial sale in the USA until 2007, but there was nothing stopping anyone who felt like it from distilling it themselves. The guys at St. George did just that, and spent 11 years prior to 2007 practising and perfecting their absinthe recipe, apparently just for fun as they couldn't sell it. They ended up with a fantastic layered and evocative expression of this beguiling and highly spirituous herbal elixir.

When the ban was repealed, St. George Absinthe Verte, made from a host of real botanical ingredients such as star anise, fennel, lemon balm, hyssop and stinging nettles, hit the shelves and was the first legal absinthe produced in the USA since 1912. It remains one of the most acclaimed and respected spirits in this category.

And it has a monkey on the label!

St. George Spirits was founded in 1982, and has grown from a dedicated eau de vie distillery into a diverse operation that makes a range of craft spirits. They have grown from a one man operation operating a bare-bones production facility with tasting tables jerry-rigged on sawhorses, to a diverse team of individuals passionate about artisan spirits operating a 65,000-square-foot hangar with a spectacular tasting room, laboratory, and a line-up of the most beautiful copper stills in the industry.

That's a lot to be proud of. But it didn't happen overnight. They've grown slowly over the last 39 years, hiring one person at a time, adding one copper still at a time. They don't have a marketing team or a big advertising budget. What they do have is passion, ideas, and access to superlative raw materials.

The craft distillation movement has grown with them over the years, and they've been joined by hundreds of new distilleries across the country. As the landscape has changed, there's been a lot of talk about established spirits brands vs. newcomers. Big brands vs. small brands. The way they see it, it's not that small or big is better. It's not that new or old is better. Better is better. We wholeheartedly agree.

And with that in mind, they have dedicated themselves to making the best spirits they can.They want to be able to pick their spirits out of a line-up on smell and taste alone because they're exceptional, and we feel they have succeeded in their goal and the St. George range of spirits are some of the best around. Highly recommended!

| | |
| --- | --- |
| Producer | St. George Spirits |
| Style | Absinthe Verte |
| Volume | 20cl |
| ABV | 60% |