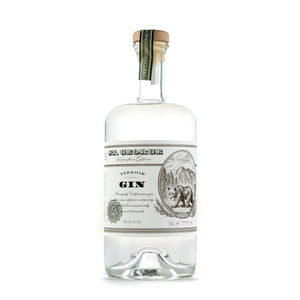 Tasting Notes for St. George Terroir Gin
Aroma: You're out in nature. In a forest to be precise, surrounded by Douglas firs and woodsy herbal aromas.
Taste: Fresh, with more fir, pine and bay laurel alongside the coastal sage. Well-structured and moreish.
Finish: Evocative and very long with citrus and lingering herbaceous notes.
St George's Terroir Gin is not necessarily about the soil and climate and how it affects the flavour of gin as much as it is a celebration of that which paints an evocative picture of place. Anyone who has travelled the West Coast Pacific Highway in California and marvelled at the verdant seas of Redwood and Douglas Firs, has experienced the inspiration which the distillers at St. George Spirits have seemingly captured in this gin.

Made from two distillates, one with wild Douglas fir and sage, and another with eight botanicals, including local bay leaves and juniper berries to produce a truly unique, wild gin. Interestingly enough, the St George's Terroir Gin also features a special spin on coriander in that the team roasts it before distillation. Overall, the result is an impressive gin which genuinely transports anyone who takes a sip, and wonderful its herbaceous character will stand out in any bold cocktail.

St. George Spirits was founded in 1982, and has grown from a dedicated eau de vie distillery into a diverse operation that makes a range of craft spirits. They have grown from a one man operation operating a bare-bones production facility with tasting tables jerry-rigged on sawhorses, to a diverse team of individuals passionate about artisan spirits operating a 65,000-square-foot hangar with a spectacular tasting room, laboratory, and a line-up of the most beautiful copper stills in the industry.

That's a lot to be proud of. But it didn't happen overnight. They've grown slowly over the last 39 years, hiring one person at a time, adding one copper still at a time. They don't have a marketing team or a big advertising budget. What they do have is passion, ideas, and access to superlative raw materials.

The craft distillation movement has grown with them over the years, and they've been joined by hundreds of new distilleries across the country. As the landscape has changed, there's been a lot of talk about established spirits brands vs. newcomers. Big brands vs. small brands. The way they see it, it's not that small or big is better. It's not that new or old is better. Better is better. We wholeheartedly agree.

And with that in mind, they have dedicated themselves to making the best spirits they can.They want to be able to pick their spirits out of a line-up on smell and taste alone because they're exceptional, and we feel they have succeeded in their goal and the St. George range of spirits are some of the best around. Highly recommended!

| | |
| --- | --- |
| Producer | St. George Spirits |
| Style | American Craft Gin |
| Volume | 75cl |
| ABV | 45% |