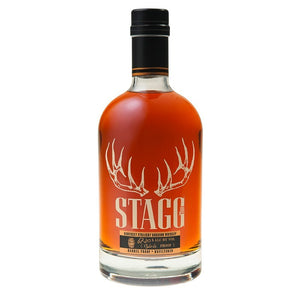 Tasting Notes for Stagg Jr. 'Batch 17'
Nose: Baking spice, dark cherry, raisin bread, vanilla, oak, cinnamon, smells ready to rock and roll. 
Taste: Leather, dark cherry, vanilla, oak, cinnamon, coats the mouth well, a bit of minty freshness, spicy on the back end.  Does not drink like its proof.
Finish: Long, hard, and hot.  Spicy mint, cinnamon, with oak, tobacco, leather, vanilla, and oak.
The last ever Stagg Jr before the 2022 Stagg rebrand, Batch 17, released in Winter 2021, is the final 'Jr' instalment and one of Buffalo Trace distillery's finest barrel-proof bourbons. A punchy yet approachable barrel-proof bourbon that weighs in at a healthy 128.7 proof, Stagg Jr's Batch 17 is both a scorcher and smooth, sweet-talker that's perfectly tuned for lovers of Stagg Jr's most memorable offerings. Expect a profile swimming with sweet vanilla, caramel, and molasses, as well as an intriguing 'cherry cola' aroma that intertwines with the classic oaky nuttiness for which Stagg's finish is renowned.

Numerous Awards, here's a sample:

2020 Double Gold Medal - San Francisco World Spirits Competition

2019 Gold Medal - New York World Spirits Competition

2019 Gold Medal - Whiskies of the World

2019 Gold Medal - Los Angeles International Spirits Competition

2019 Gold Medal - American Whiskey Masters

2019 Double Gold Medal - San Francisco World Spirits Competition

2019 Double Gold Medal - Denver International Spirits Competition

2018 Gold Medal - New York International Spirits Competition

Buffalo Trace is the flagship bourbon from it's namesake distillery in Frankfort, Kentucky, which claims to be the oldest continuously operating distillery in the United States. Records indicate that distilling started on the site that is now the Buffalo Trace Distillery in 1775 by Hancock Lee and his brother Willis Lee who died in 1776, with the first distillery being constructed in 1812 by Harrison Blanton.

In 1870 the distillery was purchased by Edmund H. Taylor and given its first name, the Old Fire Copper (O.F.C.) Distillery. Taylor sold the distillery eight years later to George T. Stagg and in 1886, Stagg installed steam heating in the storage warehouses, the first climate controlled warehouse for aging whiskey in the US. Albert B Blanton, who Blanton's whiskey is named after, joined the O.F.C distillery in 1897 as an office boy and would go on to devote more than 55 years to producing, protecting and promoting fine Kentucky straight bourbon whiskey, eventually becoming president of the distillery, now called the George T Stagg distillery, in 1921. Under Col. Blanton's direction, the Distillery survived and even thrived through Prohibition, the Great Depression, a devastating flood and numerous other challenges throughout the early 20th century.

The Distillery went through several changes of ownership and name before finally being bought by the Goldring family who renamed it the Buffalo Trace Distillery after an ancient buffalo crossing on the banks of the Kentucky River in Franklin County, Kentucky in 1992.

| | |
| --- | --- |
| Producer | Buffalo Trace Distillery |
| Style | Kentucky Straight Bourbon |
| Age | No Age Statement |
| Volume | 75CL |
| ABV | 64.35%. |