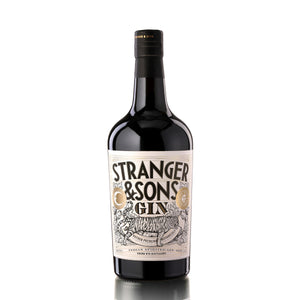 Tasting notes for Stranger & Sons Indian Craft Gin 
Aroma: Complex Indian spices are well integrated with piney juniper, nutty angelica, and lime-led zesty citrus.
Taste: Zesty citrus and assertive spice, but neither overwhelm the juniper.
Finish: Earthy and cinnamon-spiced with sweet liquorice.
Overall: A brilliantly conceived and executed gin that showcases predominetly Indian botanicals without masking traditional juniper and angelica gin botanicals. Best summarised as being traditional London dry in style but with dialled up Indian spice and citrus. Definitely in the must try category!
Our Suggested Serve:
In a Gibson/ Gimlet. For a G&T, garnish with Lemon/Lime peels and pair with Fever Tree Indian Tonic.
Official notes on their website. We're not going to add anything as this is crazy enough:

Deep in the jungles of the Western Ghats in India, lives a two-tailed, three-eyed creature who once chanced upon juniper berries hidden in the secret pocket of a sari blouse. The story of this gin began with her.

She's known to appear on full moon nights holding a pot with her human hand and hiding secret ingredients in her two tails. Some say you can find her between dusk and dawn, at the local bars in Panjim, Goa but we've heard murmurs of sightings in London, Singapore and Thailand…

Her pug marks disappear as soon as she makes them, as though as there's an invisible wind whose sole responsibility is keeping her existence a mystery to all, except those she chooses. And even then she always uses her third eye to connect with them.

| | |
| --- | --- |
| Producer | Third Eye Distillery |
| Volume | 70cl |
| ABV | 42.8% |