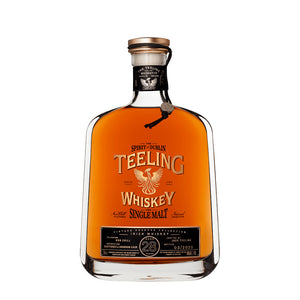 Tasting Notes For Teeling 28 Year Old Single Malt Irish Whiskey
Nose: White peaches, cut grass, white chocolate and a hint of toasted almonds.
Taste:  Silky smooth with ripe peaches, honey, smoked sea saltiness and subtle spices on the tongue.
Finish: Long and mellow with a continuation of the sweet spice.
Building on the international success of the Teeling 21 and Teeling 24 Year Old single malts, Teeling now present their latest release; Teeling 28 Year Old Single Malt. This whiskey consists of the same liquid as the World's Best Single Malt winning 24 Year Old single malt, aged for a further four years. This is a very limited release of vintage single malt whiskey, celebrating the very best that Teeling has to offer. Initially aged in ex- Bourbon casks and finished in specially sourced Sauterne casks, this outstanding whiskey is limited to just 4,000 bottles.

The Sauterne wine cask come from the Sauterne region, a subregion of the Bordeaux wine region. There are a few laws for the Sauterne wine. First of all it has to come from the region. Also it must have at least 13% AVB and a high sweetness. The French Sauternes wine casks come from the Sauternais region of the Graves section in Bordeaux. Sauternes is made from Sémillon, Sauvignon blanc, and Muscadelle grapes. The grapes are partially raisined, resulting in concentrated and distinctively flavored wines which add complexity to this wonderful whiskey.

World Whiskey Awards: Best Single Malt 21 Years & Over - 2021

With the opening of the Teeling distillery in 2012, whiskey making has came back to the city that was once the epicentre of the world whiskey trade. Following the relocation of Powers to Midleton in Co.Cork in the 1970's, not one drop of whiskey had been distilled in the Irish capital for almost 40 years, and not one new distillery had opened in 125 years.

In a sense, this is also a homecoming for the Teeling family, as their love affair with Ireland's national drink also started in Dublin, when in 1782 Walter Teeling set up a craft distillery on Marrowbone Lane in the Liberties area of Dublin. The family have been involved in the whiskey industry since that day, with John Teeling being responsible for setting up the first new distillery in the whole of Ireland in over 100 years when he opened the Cooley distillery in 1987, with his sons Jack and Stephen following in his footsteps by opening the Teeling distillery. On the very forefront, and one could argue partly responsible for the revival of whiskey making in Ireland, big things are expected.

With that kind of pedigree behind the project, you could rightfully be very excited to see what Teeling come up with, and they certainly don't disappoint.  Marrying Irish whiskey making traditions, with modern innovations, every whiskey that has came out of this distillery has won multiple awards. It's still early days, but all indications are that this will be a most triumphant return of whiskey making to the world's original whiskey making capital.

| | |
| --- | --- |
| Producer | Teeling Distillery |
| Style | Super Premium Single Malt |
| Age | A minimum of 18 years |
| Volume | 70CL |
| ABV | 46% |