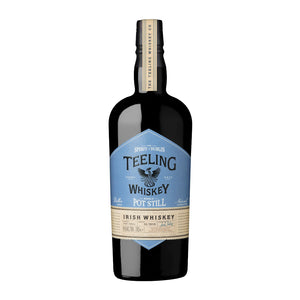 Tasting Notes For Teeling Single Pot Still
Nose: Hibiscus flowers, honeycomb, white grape flesh, grapefruit & citrus.
Taste: Hints of lychee, more white grape notes along with white pepper, warm, roasted peaches and baked biscuits. 
Finish: Wrapped up with a dry finish, with hints of spice, roasted almonds and maple sugar lingering in the mouth.
The Teeling folks made history by bringing whiskey distillation back to Dublin with its very own Teeling Single Pot Still expression, which was completely distilled in Ireland's capital - the first time this has happened in nearly half a century! It's made from 50% malted and 50% un-malted barley, a rather historic and traditional Dublin mash bill where the sweet biscuit element of the malted barley blends effortlessly with the spice and cream elements of the unmalted spring barley.

The use of a wooden wash back for fermentation gives Teeling pot still whiskey its fruity and light floral nose. Triple distilled in their Dublin distillery, Teeling Pot Stills preserve the grain and fermentation elements during the distillation allowing them to maintain that spicy and creamy mouth feel. The whiskey is then matured in American Virgin Oak, Ex-Bourbon and Ex-Sherry Barrels which impart different flavours from each leaving us with a unique spice, cream and muscovado sweetness. Finally, it is bottled at 46% ABV without any chill-filtration or additional colouring.

Irish Whiskey Awards: Gold Medal - New Irish Whiskey - 2019

Number 15 in Whisky Advocates Top 20 Whiskies of 2020

With the opening of the Teeling distillery in 2012, whiskey making has came back to the city that was once the epicentre of the world whiskey trade. Following the relocation of Powers to Midleton in Co.Cork in the 1970's, not one drop of whiskey had been distilled in the Irish capital for almost 40 years, and not one new distillery had opened in 125 years.

In a sense, this is also a homecoming for the Teeling family, as their love affair with Ireland's national drink also started in Dublin, when in 1782 Walter Teeling set up a craft distillery on Marrowbone Lane in the Liberties area of Dublin. The family have been involved in the whiskey industry since that day, with John Teeling being responsible for setting up the first new distillery in the whole of Ireland in over 100 years when he opened the Cooley distillery in 1987, with his sons Jack and Stephen following in his footsteps by opening the Teeling distillery. On the very forefront, and one could argue partly responsible for the revival of whiskey making in Ireland, big things are expected.

With that kind of pedigree behind the project, you could rightfully be very excited to see what Teeling come up with, and they certainly don't disappoint. Marrying Irish whiskey making traditions, with modern innovations, every whiskey that has came out of this distillery has won multiple awards. It's still early days, but all indications are that this will be a most triumphant return of whiskey making to the world's original whiskey making capital.

| | |
| --- | --- |
| Producer | Teeling Distillery |
| Style | Single Pot Still |
| Age | No age statement |
| Volume | 70CL |
| ABV | 46% |