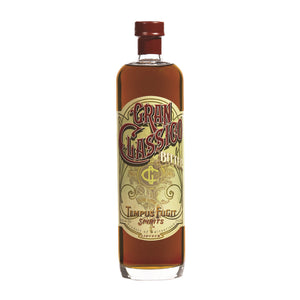 Tasting Notes for Tempus Fugit Gran Classico Bitter:
Aroma: A multi-faceted bitter-sweetness of orange peel, gentian root and wormwood mingled with rhubarb and vanilla. 
Taste: The viscosity immediately highlights the sweet rhubarb, then the bitter gentian root and orange peel blend with wormwood, vanilla and resiny notes.
Finish: Deep, layered and lingering finish that balances and alternates between the sweet and bitter.
This is a bitter apéritif liqueur created following the "Italian Bitter of Turin" recipe dating from the 1860s. It was originally produced in Turin, Italy under the name Torino Gran Classico. The recipe was purchased in 1925
by the small Swiss distillery E. Luginbühl, and a version has been produced for mostly local consumption ever since.

★★★★★ BEST SPIRIT IN THE WORLD 2010

"Entry is all about the rhubarb upfront, then in midpalate the gentian dominates before the orange peel comes rushing back in the finish as well as a piny/resiny quality that makes the aftertaste smashingly delicious. Campari drinkers take note: the ultimate expression of Bitter."

- F. Paul Pacult's The Spirit Journal -

Tempus Fugit Spirits is dedicated to the glory of the well-made cocktail. The goal is to source and recreate rare spirits and liqueurs from the pages of history to satisfy the demands of the most discerning connoisseur. Along with the world's finest absinthes, Tempus Fugit was determined to seek out fine rare spirits that were once staples in classic pre-Prohibition cocktails, which have been lost over time.

In most cases, Tempus Fugit recreated these liqueurs in-house using historic 9th century protocols, many cross-referenced in several languages, to arrive as close in taste to these forgotten spirits as is possible, or surpass them. From rare fruit, flower and plant liqueurs to bitters, Amari, Vermouths and Chanati, Tempus Fugit prides itself in finding out what's missing from the back bar of the most discerning bartenders.

| | |
| --- | --- |
| Producer | Tempus Fugit Spirits |
| Style | Italian (Turin) bitter apéritif liqueur |
| Volume | 70cl |
| ABV | 28% |