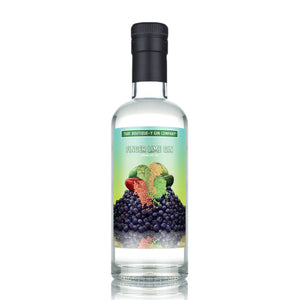 Tasting Notes for That Boutique-y Gin Company - Finger Lime Gin
Aroma: Zesty and vibrant, juniper and lime blend well among angelica, and an earthy quality.
Taste: Through anise and coriander spice there's creamy lime bars, a touch of lemon zest and the subtlest menthol note.
Finish: Syrupy and slightly warming, with a floral quality.
Australia has given us many great things, including AC/DC, Hugh Jackman and big things (there are over 150 sculptures of things that are big all over Australia, including a big pelican, a big rum bottle and a big bench). However, we're so fond of one Australian export that we made a gin dedicated to it - finger limes! These odd fruits have a texture that's a bit like caviar, and they taste absolutely amazing. They were destined for gin!

Sister to That Boutique-y Whisky Company, which was launched by Master of Malt a while back with a view to shaking up the Whisk(e)y industry to make it more fun, more collaborative, less stuffy and a bit… well… cooler, TBGC aims to bring that appeal to gin, releasing independent bottlings that will give pure-of-heart geeks something new, exclusive and collectable to get excited about, and to give emerging brands further exposure.

That Boutique-y Gin Company is teaming up with distillery's large(ish) and small to create limited edition collaboration gins – special runs of their spirits with a new, one-off twist.

Each of the gins comes in a beautiful bottle, featuring quirky, hand-drawn illustrations by the sublimely talented Grace J. Ward. Each aims to tell the story of the distillery involved.

| | |
| --- | --- |
| Producer | An Unnamed UK distillery for That Boutique-y Gin Company |
| Style | London Dry Gin |
| Volume | 70cl |
| ABV | 46% |