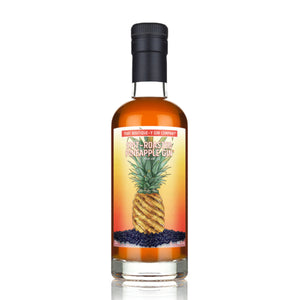 Tasting Notes for That Boutique-y Gin Company - Spit-Roasted Pineapple Gin
Aroma: The inside of a pineapple fritter - juicy, with a touch of zestiness and light caramel.
Taste: An indulgent harmony of flavours greet the tongue: a beautiful mix of sweet and sour pineapple and rich, sweet caramel.
Finish: Lingering sweet pineapple, as well as the dry, crisp freshness of the gin, inviting you back in for another sip.
Perfect Serve: Ginger beer & lime wedge.
We present you with a quandary. You wish to enjoy the fantastic combination of pineapple and gin, but you don't fancy hacking away at a pineapple and sticking a fistful of pineapple chunks into your glass (which is understandable, as pineapples are notoriously cumbersome and pointy). What to do? That Boutique-y Gin Company presents you with a solution to this quandary - Spit-Roasted Pineapple Gin!

A commonplace tipple of the '20s, pineapple gin fell off the map and was lost to time for a while. That Boutique-y Gin Company have rescued it from that fate and given it a 21st century twist. Whole pineapples are roasted on a spit with Demerara sugar until they're gloriously caramelised, and they're then combined with a particularly bold gin, helping to cut through the sweet, toasty pineapple. Serve over ice, or with some Ting if you can get your hands on it, or ginger beer and lime.

Sister to That Boutique-y Whisky Company, which was launched by Master of Malt a while back with a view to shaking up the Whisk(e)y industry to make it more fun, more collaborative, less stuffy and a bit… well… cooler, TBGC aims to bring that appeal to gin, releasing independent bottlings that will give pure-of-heart geeks something new, exclusive and collectable to get excited about, and to give emerging brands further exposure.

That Boutique-y Gin Company is teaming up with distillery's large(ish) and small to create limited edition collaboration gins – special runs of their spirits with a new, one-off twist.

Each of the gins comes in a beautiful bottle, featuring quirky, hand-drawn illustrations by the sublimely talented Grace J. Ward. Each aims to tell the story of the distillery involved.

| | |
| --- | --- |
| Producer | An Unnamed UK distillery for That Boutique-y Gin Company |
| Style | London Dry Gin |
| Volume | 70cl |
| ABV | 46% |