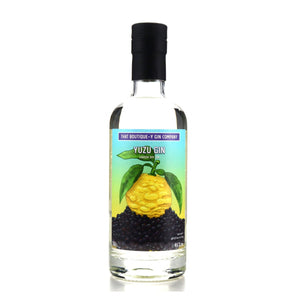 Tasting Notes for That Boutique-y Gin Company - Moonshot Gin
Aroma: Through bright juniper come waves of citrus, soft and well developed – orange blossom, lemon balm and pinch of pink grapefruit. Green pine notes and hints of fennel rise, along with a little perfumed rose water.
Taste: In a delicious cream soda texture there's sweet sherbet lemon, orange oil and bergamot. Perfumed vanilla and jasmine linger beneath, with tart liquorice root and a suggestion of star anise. Turkish Delight and icing sugar are also present.
Finish: A sweetly floral finish also offers waxy mixed peels, warming pine needle and an intensifying earthy spiciness.
Perfect Serve: Fresh Lemonade.
Do you like yuzu? Boutique-Y do too! In fact, they are such big fans of this curious citrus fruit that they decided to produce a gin in honour of its fabulous aromatic profile! This stuff is excellent in a G&T, and more than suitable for a Negroni as well.

Limited to 7250 bottles.

Sister to That Boutique-y Whisky Company, which was launched by Master of Malt a while back with a view to shaking up the Whisky industry to make it more fun, more collaborative, less stuffy and a bit… well… cooler, TBGC aims to bring that appeal to gin, releasing independent bottlings that will give pure-of-heart geeks something new, exclusive and collectable to get excited about, and to give emerging brands further exposure.

That Boutique-y Gin Company is teaming up with distillery's large(ish) and small to create limited edition collaboration gins – special runs of their spirits with a new, one-off twist.

Each of the gins comes in a beautiful bottle, featuring quirky, hand-drawn illustrations by the sublimely talented Grace J. Ward. Each aims to tell the story of the distillery involved.

| | |
| --- | --- |
| Producer | An Unnamed UK distillery for That Boutique-y Gin Company |
| Style | Vacuum-Distilled London Dry Gin |
| Volume | 70cl |
| ABV | 46% |