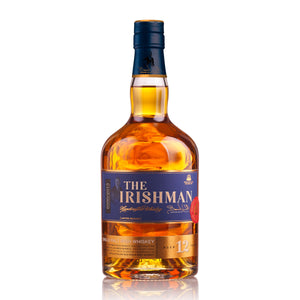 Tasting Notes For The Irishman Single Malt 12 Year Old:
Nose: Sweet spicy notes of Vanilla, Cinnamon and even a tincture of Clove. All balanced with Apples and Pears, some charred wood and freshly cut hay.
Taste:  Sweet with Vanilla, bolstered by Black Peppercorns, reluctantly giving way to a succulent fruity mid-section.
Finish: Lingering succulent flavour of Barley and Oak. A touch of creamy dairy fudge and Dark Chocolate.
The Irishman 12 Year Old Single Malt Irish Whiskey was launched in 2013, and demand has been high. But due to the limitations of being a smaller production house, only 6000 bottles of the 12 YO single malt are being made each year. This is accomplished by hand selecting the best cast from inventory and giving them extra time to rest.

The Irishman single malts are triple distilled — as is the Irish Whiskey tradition — and aged in a combination of ex-Bourbon and ex-Sherry casks without chill filtration. Upon initial release it was an instant classic, winning Gold and Best in Class at the International Spirits Challenge.

Gold Medal at the 2020 Irish Whiskey Masters

Gold Medal at International Spirits Challenge, London

Double Gold at International Spirits Challenge, San Francisco

93 points Beverage Tasting Institute USAGold Medal Winner ISW Awards Germany 2012

Gold Medal Winner at International Spirits Challenge, San Francisco 2013

The company behind The Irishman whiskey was set up by husband and wife partnership Bernard and Rosemary Walsh in 1999. The initial aim for the Walshes was to blend and bottle the perfect Irish coffee, and as such the first offering from the couple was the Hot Irishman. Moving on from this, The Irishman Irish cream was released in 2005, before an agreement was reached with Irish Distillers in 2006 to distil and lay down whiskey stock for the Irishman whiskey. The first whiskey released under The Irishman label was released in 2007. Since then, the whiskey has went from strength to strength, earning critical acclaim and picking up multiple awards along the way. Many of the whiskeys in this range are unique, blending traditional Irish single pot still whiskeys with Single Malt Whiskeys, to create a fusion not seen since the heyday of Irish Whiskeys. The Irishman range has been so successful it has allowed the Walshes to open their own distillery, Royal Oak.

Royal Oak is the majestic home to the Walsh Whiskey Distillery, founded by Bernard Walsh, is a family-owned and operated distillery which ceremoniously opened its doors June 21, 2016. Walsh Whiskeys marks the return of Whiskey distilling to County Carlow, for the first time in over 200 years. They are also the only independent Irish Whiskey distillery to produce the three styles of Irish Whiskey– pot still, malt, and grain under one roof, in one still room. With columns for grain Whiskey, and pots stills for malt, Walsh Whiskey has the capacity to produce 650,000 cases of Whiskey per annum.

The picturesque distillery is also designed to hospitably caters to visitors, with its three specially crafted imported copper pots stills,built in the legendary Scottish Forsyths -the world's most prestigious supplier of distillation equipment- and two, forty plate column stills.

A slight break from the traditional ex-Bourbon and Sherry, Walsh Distillery ages their Whiskeys in quality casks from around the world: Bourbon barrels from Kentucky, Sherry Butts from Jerez, Rum casks from St. Lucia and Marsala wine casks which they are receiving from their partners Illva Saronno in Sicily.

Walsh Whiskey's heart and soul are the very popular Writers Tears and Irishman Whiskey. Their goal is to expand the already existing line-up of these Whiskeys. Their growing production line up is a robust offering of various expression of these brands, with 8 Whiskey (5 Irishman, 3 Writer's Tears) offerings.

Their hybrid, single malt/pot still Irishman Founders Reserve, is highly acclaimed by Jim Murray who gave it 93 points, calling it "quite a wonderful blend." Their distinctly floral, highly acclaimed Writer's Tears Copper Pot , is also one of the highest rated Irish Whiskey's in Jim Murray's Whisky Bible and one of our all-time favourites. Walsh rounds out their production range with an Irish coffee and Irish cream.

| | |
| --- | --- |
| Producer | Walsh Whiskeys |
| Style | Premium Single Malt |
| Age | A minimum of 12 years |
| Volume | 70CL |
| ABV | 43% |