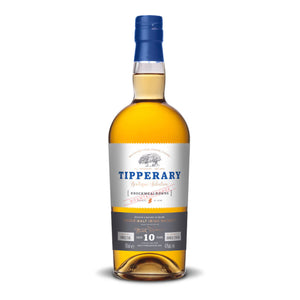 Tasting Notes for Tipperary Knockmealdowns 10 Year Old Single Malt Irish Whiskey
Nose: The nose opens with fresh oak, developing into hot caramel sauce with notes of chocolate and vanilla.
Palate: The pallet is light and smooth – sweet honey cut through with citrus notes, then becoming savoury and peppery.
Finish: The finish lingers, oaky with drying tannins and just a touch of ginger spice. Like Watershed and the Rising, each bottle of Knockmealdowns is individually numbered.
The first of Tipperary's Limited Edition Mountain Range, "The Knockmealdowns" is created from only 6 casks, matured in Ireland for 10 years in ex-bourbon barrels. The whiskey is cut to 47% with water from Ballindoney farm in Tipperary, owned by our co-founding family, the Ahearns.

Knockmealdowns whiskey honours the Knockmealdown mountain range, which straddles the border between County Tipperary and Waterford. The highest peak, the Knockmealdown, stands at 2,605 feet and looks down from the south over the plain of land on which Ballindoney farm lies.

A particularly picturesque area, the Knockmealdown mountains are home to the "Vee", a V-shaped turn on the road up Sugarloaf hill. This is one of the most scenic locations in Ireland, and on a clear day you can look out over 3 counties: Tipperary, Waterford and Limerick.


Jennifer Nickerson, Stuart Nickerson and Liam Ahearn founded Tipperary Boutique Distillery Limited in 2014. Having spent the first few years releasing independently bottled single malt Irish whiskeys.

Situated in the Golden Vale - a picturesque region of rolling hills and pasture land in southwestern Ireland spanning three counties — Limerick, Tipperary, and Cork. Tipperary Distillery is a brand new operation that sits in the middle of this small patch of God's country. Construction started in 2016, and Tipperary distillery is now comprised of 4 copper stills (with the largest only 1,000 litres) which were installed in May 2020, a mash tun, 4 fermenters and hand bottling equipment.

This is a true craft distillery dedicated to distilling their own home-grown barley to create both Single Estate Irish single malt whiskey and Irish single pot still whiskey, together with white spirits such as gin.


| | |
| --- | --- |
| Producer | An unnamed distillery (likely Cooley) for Tipperary |
| Style | Irish Single Malt Whiskey |
| Age | A minimum of 10 years |
| Volume | 70CL |
| ABV | 47% abv |