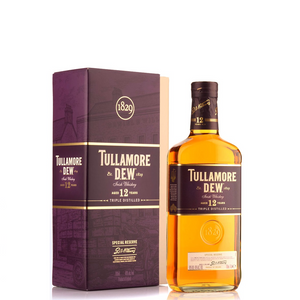 Tasting Notes
Nose: Early spice followed by red wine while a nice nuttiness follows before a light woody note brought on from 12 years spent in oak casks.
Taste: A deep spice flavour with a robust yet creamy body cloaked in a definite chocolaty note. Dried fruits and nut accompany the chocolate, giving a verticable praline note in the taste.
Finish: The finish is long and rich with some citrus, chocolate, raisins and marzipan all lingering.
Tullamore DEW 12 Year Old Special Reserve is a carefully crafted blend of old Irish whiskeys. They say with age comes wisdom, or in this case, complexity, character and maturity – one of the reasons why this truly unique whiskey has been awarded plaudits in abundance from whiskey connoisseurs around the world. Like Tullamore D.E.W. Original, Tullamore D.E.W. 12yo Special Reserve is a triple distilled blend of all three types of Irish whiskey. However, it has a high proportion of pot still and malt whiskeys, matured in a combination of bourbon and sherry casks, for 12 to 15 years. A very fine aged whiskey with great complexity coming from the additional aging.

All the whiskeys in the blend are matured in old Bourbon and Oloroso sherry casks, slowly reaching their perfection. The sherry cask finish gives a sweet nuttiness to the taste. It also has pleasant spicy back notes. On the nose, medium intensity, malty, spicy, toasted wood and vanilla notes. Complex flavours with sweet nuttiness, faint notes of Christmas cake and a hint of lemon.The palate is smooth and full with woody undertones, giving way to sweet oloroso and just a touch of spice. Pleasantly dry finish with slightly lemony and sweet notes lingering.

Irish Whiskey Awards: Gold Medal 2015, 2018

World Whiskies Awards: Category Winner 2017

International Wine & Spirit Competition: Gold Outstanding 2017

Distilling is known to have taken place on the banks of the river Clodagh since 1790, and the first distillery was established in the town of Tullamore, Co.Offaly, in 1829 by Michael Molloy. Eventually a young engineer by the name of Daniel Edmond Williams was promoted to general manager and the distillery underwent a period of modernisation, with electricity, telephones and automobiles were coming into use.

Distilling is known to have taken place on the banks of the river Clodagh since 1790, and the first distillery was established in the town of Tullamore, Co.Offaly, in 1829 by Michael Molloy. Eventually a young engineer by the name of Daniel Edmond Williams was promoted to general manager and the distillery underwent a period of modernisation, with electricity, telephones and automobiles were coming into use.It is during this time that Tullamore DEW began to be marketed, with the DEW coming from the great man's initials. The distillery was eventually bought by the Willaims family and was hugely successful until the 1920's when hard times forced the family to stop distilling. The doors remained shut until 1947 when the distillery was re-opened under the stewardship of Desmond Williams, grandson of Daniel, who installed a patent still and began production of Ireland's first blended whiskey. In 1954, the brand was sold to John Power & son, and the distillery was closed, with production shifting to Midleton, where it remained until 2014, when a new purpose built distillery was opened in Tullamore, bringing the whiskey home again.

| | |
| --- | --- |
| Producer | Tullamore D.E.W |
| Style | Premium blend of Single Malt, Single Pot Still and Grain Whiskeys |
| Age | A minimum of 12 years |
| Volume | 70CL |
| ABV | 40% |