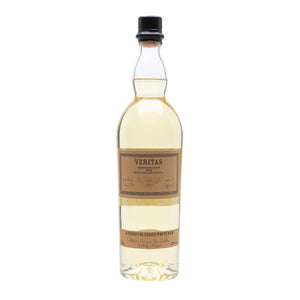 Tasting Notes for Veritas Rum
Nose: Green apple, cut grass, cream soda, vanilla fudge, lemon cream and ripe pineapple.
Taste: Vanilla fudge, white pepper spice, pineapple, cream soda and cut grass.
Finish: Long and spicy with fudge, cut grass, pineapple and vanilla.
Overall: One of the more assertive white rums with plenty of pot still character. It's grassy, cream soda and pineapples make an awesome Daquiri. 
Veritas (which is the Latin for 'truth', and was the name of the Roman goddess of truth) is an intriguing and delightful rum which was created from a collaboration by the wonderful Foursquare and Hampden, as well as Italian bottler Velier. As you'd expect from a combined experience of more than 400 years, this rum is pretty awesome. It's a blend of 3 rums; a non-aged column distilled rum and a pot still rum aged for 2 years by Foursquare, and another non-aged pot still rum from Hampden Estate. The rums are blended and bottled at 47% without filtration at the Foursquare distillery in Barbados by Velier. It's amazing in Daiquiris.

A collaboration between 3 of the rum world's most favourite companies, rum from Foursquare Distillery in Barbados and Hampden Estate in Jamaica, blended and bottled in Barbados by Velier. If that's not impressive, then I guess you don't like rum!

| | |
| --- | --- |
| Producer | Foursquare Distillery & Hampden Estate Distillery |
| Style | Rum |
| Age | No Age Statement |
| Volume | 70CL |
| ABV | 47% |