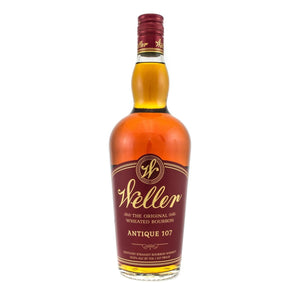 Tasting Notes for W.L. Weller Antique 107
Nose: Remarkably spicy for a wheated Spirit, delivering notes of cinnamon, vanilla, caramel/ butterscotch and wood.
Taste: The flavors come in distinct waves and all the power of that cask strength Spirit in notes of spice cake, leather, and a Rum-like quality.
Finish: Long with a nice burn of heavy oak and sweetness.
The name "Weller" has been around the horn a few times. It all started with the Stitzel-Weller Distilling Company — founded in 1935 and closed in 1972 during the famous "Whiskey Recession." The had a bunch of great brands when they closed, and the formulas and brands were sold off. Today, the W. L. Weller brand is owned by Sazerac out of New Orleans and the Bourbons are distilled at their famous Buffalo Trace Distillery along with a wide array of Sazerac products.

W.L. Weller Old Weller Antique is a Kentucky Straight Wheated Bourbon — sometimes called "Antique 107" — that is indeed bottled at 107 proof (53.5% ABV). That's nearly cask strength, and all the flavors are powerful at that level. Although there is no age statement, the consensus of our experts and the Bourbon-drinking public is that it clocks in somewhere near seven years old. As a Straight Bourbon, it can't have any artificial colors or flavorings and you just can't get a rich color and smooth finish like that in less time. Bottom line, it is very smooth with a very light spice at a great value point and makes for an amazing daily dram. And the experts agree — judging by the haul of gold medals it's been awarded.


2020 Gold Medal - San Francisco World Spirits Competition

2019 Gold Medal - New York World Spirits Competition

2019 Gold Medal - Los Angeles International Spirits Competition

2019 Gold Medal - San Francisco World Spirits Competition

Weller. W.L. Weller was born in Kentucky in 1825. His claim to fame was the wheated bourbon produced by his wholesale whiskey business, which was prized for its smoothness. Weller today is generally known as "The Original Wheated Bourbon", a style which includes other famour bourbons such as Makers Mark, Larceny and Pappy Van Winkle. In 1935, Weller's business was combined with the Stitzel distillery, owned by former Weller salesman and afrementioned Julian "Pappy" Van Winkle. The Stitzel-Weller distillery was later sold and closed in 1972; today it is the visitor's center for Bulleit Bourbon. Sazerac purchased the Weller brand in 1999, and it has since been produced at the award winning Buffalo Trace Distillery in Frankfort, Kentucky.

| | |
| --- | --- |
| Producer | Buffalo Trace Distillery |
| Style | Wheated Bourbon |
| Age | No Age Statement |
| Volume | 75CL |
| ABV | 53.5% |