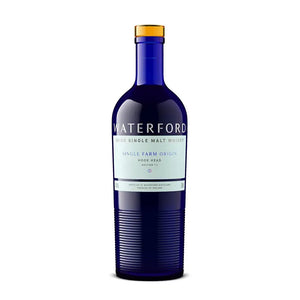 Tasting Notes For Waterford Single Farm Origins Hookhead 1.1
Aroma: Earthy maltiness & fresh soil, citrus peel, breadcrust, clove, white pepper, caramel, milk chocolate, salted popcorn, barnyard, oak green foliage.
Taste: It's a spice bomb up front; with cloves, white pepper, salted caramel, liquorice, ginger biscuits, lemon zest, & chilli chocolate.
Finish: Dry, but it leaves a lasting oiliness that holds the spiciness for a long time.
The lighthouse at Hook Head stands resolute against the full force of the Atlantic Ocean on Ireland's southern coast, 10 miles from the distillery – so close that Oliver Cromwell vowed to take Waterford 'by hook or by crook' in the 17th century. In its shadow, Martin Foley grows barley on clay/loam soils derived from limestone, belonging to the Elton series. Exposed to the full range of salt-laden storms, sea mists & ocean breezes, it's an extreme maritime terroir.

Every bottle of Waterford Whisky features its own pioneering TÉIREOIR code. Hop on over to their website at https://waterfordwhisky.com/teireoir and enter the code. Once entered it will reveal a host of unprecedented and engaging content related to the bottling. Using rich photography, and drawing upon their unrivalled digital logistics systems that collects thousands of data points, you'll be able to browse maps, see harvest information, meet the grower, view distillation details as well as observe the full spectrum of wood used for that assemblage. The information is designed to delight the most curious whisky fan, as well as content to draw casual drinkers into the concept of real provenance. You're even able to listen to the sounds from the farm itself. Seriously awesome.


Waterford whisky is on a quest to unearth whisky's most natural flavours. Unashamedly influenced by the world's greatest winemakers, the folks at Waterford obsessively bring the same intellectual drive, methodology and rigour to barley – the very source of malt whisky's complex flavour.

Extolling almost a hundred exclusive farms of Irish-grown barley, Waterford search for natural flavours via three paths: Single Farm Origins pursue the individualism of terroir-derived flavour; Arcadian Series expresses the intensity of flavour from alternative philosophies and long-forgotten varieties; whilst Cuvées revel in the ultimate sophistication, where the whole is greater than the sum.

In Ireland's Sunny South East, warmed by the Gulf Stream, temperate, moist air crosses fertile soils to produce a verdant landscape – & the world's finest barley. Since barley is the source of malt whisky's complex flavours, it makes abundant sense to focus on where and how the barley is cultivated. Those flavours are shaped by place, by the soils that nourish its roots, by the microclimate in which it ripens. By terroir.

Terroir is the 3d interaction on a plant of soil, microclimate and site. It influences how the barley grows and thus the flavours contained within the grain. Captured farm by farm, terroir requires an extensive logistical infrastructure to verify and prove its influence – each terroir is a new starting point for Waterford whisky.

State-of-the-art equipment marries with ancient knowledge, local Irish barley with extended 120-hour fermentations, unhurried distillation with a spectrum of exceptional oak. In this way Waterford can reveal the ultimate expression of terroir, farm by farm, harvest by harvest. Unique distillates, new starting points, & beguiling expressions of place.

After maturing for several years in the best of French and American oak – a wood policy so costly and unparalleled that it accounts for one third of the distillery's production budget – the folks at Waterford believe these component "single", single malts, a solo voice, a solo terroir, each one exhibiting its own nuances, will come together as a glorious chorus of harmonic flavours.

The total is the sum of its parts. This is how, Waterford believe, the most profound single malt whisky ever can be created. And that remains their ambition, destination and whole raison d'être.


| | |
| --- | --- |
| Producer | Waterford Distillery |
| Style | Irish Single Malt |
| Age | No Age Statement |
| Volume | 70CL |
| ABV | 50% |