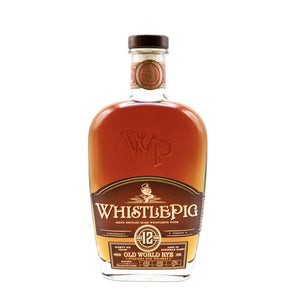 Tasting Notes for WhistlePig 12 - Old World Cask Finish
Nose: : Sponge cake topped with buttercream icing, chocolate chip cookies, a whiff of savoury oak.
Taste: Red berry sweetness jumps out right away - raspberry, raisin and cherry notes. Drying cinnamon and nutmeg, joined by a hint of anise.
Finish: Honeyed cereal, white wine, mint leaf, dark chocolate.
WhistlePig 12 year old is distilled from a mash bill of 95% unmalted rye and 5% malted barley by the MGP distillery in Indiana, before being taken North where it is aged and finished at the WhistlePig farm in Vermont. It is aged in new american oak casks for 12 years before being finished in Port (7%,) French Sauternes (30%,) and Madeira casks (63%). It's inspired by the techniques of the 'old world', with a particular reverence for Scotch whisky and claims to have "taken the elements that are most quintessential in an American rye – boldness and character – and fused them with the elegance and grace of an 18 year old Scotch."

The story of WhistlePig began with the 2007 purchase of a Vermont dairy farm by founder and CEO Raj Peter Bhakta. He teamed up with former Maker's Mark Master Distiller David Pickerell (a legend in the whiskey world who passed away in 2018) to develop a rye whiskey that took on the farm's new name. The goal was to create a single malt, single estate whiskey using the farm's organically grown rye. The advantage of this 100 percent rye whiskey is that you get the raw taste of a grain that is more robust and flavorful than corn or any other grain used in whiskeys. It's something they pulled off very nicely.

In the end, WhistlePig has become a favorite for those who appreciate full-flavored rye. The brand once used the phrase "rugged grain refined" and it is an accurate description of what you will find in every bottle of WhistlePig.

Any whiskey takes time to develop using ideal methods; WhistlePig is a good example of quick sourcing and perseverance. The first bottles were released in 2010 after Pickerell found a Canadian rye whiskey that met his esteemed standards—he was a tutor for many professionals on the finer points of whiskey tasting—and decided to put it to better use than the Canadian whisky blends it was intended for. They then implemented a two-barrel aging process to further show off the spicy rye.

The first round of the 10-year aging process for WhistlePig's signature bottling happens in new American oak barrels and the second in used bourbon barrels. This gives the whiskey the best of both worlds, adding unique undertones to the finished product. In 2014, the Vermont government gave WhistlePig permission to build their own distillery on the Shoreham farm where the rye is already grown and the hand-bottling takes place. The distillery, complete with a copper pot still designed by Pickerell, has been in full operation there since 2015.

| | |
| --- | --- |
| Producer | Distilled at MGP distillery, Indiana, and matured at Whistlepig Farm, Vermont, USA. |
| Style | Straight Rye Whiskey |
| Age | A minimum of 12 years |
| Volume | 75CL |
| ABV | 43% |