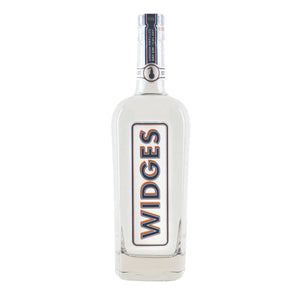 Tasting Notes for Widges London Dry Gin
Nose:  A nice pleasant citrus hit on a strong juniper backbone.
Taste: Forest floor, sweet pine, citrusy goodness with bright orange and stewed coriander seed. Balanced and dry. 

Finish: Clean and fresh.
Recommended Serve: Fever-Tree Indian Tonic, garnished with Lemon for a great G&T.
A gin made by award-winning Sydney bartender Jason 'Widges' Williams, at the Langley distillery in North England. 8 classic botanicals are used, including Juniper, Coriander, angelica root, nutmeg, orris, lemon peel, orange peel and cardamom. With a slightly higher ABV than many conventional London dry gins, Widges really comes through in mixed drinks. It is a London Dry gin, with a nice pleasant citrus hit and a strong juniper backbone. On the palate, it hits all the right notes, with a great clean finish.

The Langley distillery is situated in the historic Crosswells Brewery Site, which dates back to the early 1800s and was built over an ancient underground water source. Gin has been distilled at Langley Distillery since 1920, continuous improvements to the site along with their long history and heritage in gin making has resulted in a facility which produces globally award-winning gins of the finest quality.

The stills at Langley Distillery are some of the oldest working copper gin stills in the UK, some of them dating back to the early 1800s.


| | |
| --- | --- |
| Producer | Langley Distillery |
| Style | London Dry Gin |
| Volume | 70cl |
| ABV | 41.5% |