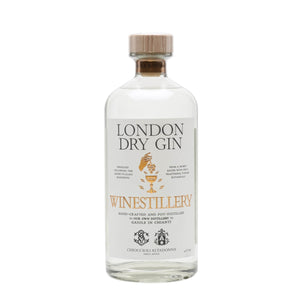 Tasting Notes for Winestillery London Dry Gin
The scent is intense with strong wine aromas, delicate hints of menthol, juniper, coriander and dark woods, as well as lemon zest and orange. Rich and velvety on the palate, fresh fruit, medicinal herbs and citrus fruits combined with a balsamic touch prevail.
An walk through scents and flavours of the hills of Tuscany.
Winestillery, the first and only "Vinstilleria" in the world, a Winery and a Distillery merged together to create a new take on traditional products. All the spirits distilled by Winestillery must originate from grapes or vines, and all botanicals are only selected from those of the Tuscan tradition. These guys take their wine and spirits seriously, and have even gone as far as writing a Grape to Glass Manifesto which you can find on their website.

Winestillery London Dry exemplifies perfectly what the terroir is, expanding the boundaries of Gin. The wine distillate along with a unique selection of Tuscan botanicals is distilled with Winestillery's unique custom designed Pot Still in order to create a unique gin, capable of transporting you deep into the heart of Tuscany.

Created by a family that has been in the wine world for two generations, the folks at Winestillery are lucky enough to be able renew their passion every day among the vineyards. The Distillery is in a unique territory, Tuscany, in particular the Chianti Classico region, with its hills that seem to be drawn by the hands of God, splendid rows of grapevines alternating with olive groves, thick dark woods filled with oak and chestnut trees, long lines of austere cypresses that mark a path to the horizon. Surrounded by so much beauty, the Winestillery folks decided to base their project on one simple desire: to celebrate the land of Tuscany by creating with their own hands products that capture the terroir with all of its nuances.

To achieve this goal, Winestillery was created, the first and only "Vinstilleria" in the world. They merged together a Winery and a Distillery to reinterpret an extremely traditional product, wine, creating unconventional Tuscan products, such as Gin, Vodka, Vermouth and every other category of Wine and Spirit that could challenge their founder and Master Distiller, Enrico Chioccioli Altadonna.

Winestillery is a radical project, lively and evolving thanks to the experimentation and dialectic between the Highest Oenological knowledge and the finest Art of Distillation. A holistic production philosophy has been embraced, expressed in the Winestillery Grape to Glass Manifesto. Each of their products is "custom tailored from the harvest to the glass".


| | |
| --- | --- |
| Producer | Winestillery |
| Style | Italian London Dry Gin |
| Volume | 70cl |
| ABV | 42% |