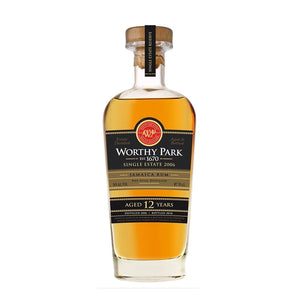 Tasting Notes for Worthy Park 2006 Single Estate
Nose: Typical Worthy Park notes of banana and breakfast tea put in a welcome appearance, and there's also quite a blast of mint and pine cones. Milky chocolate and some baking spices mingle alongside a slightly bourbon like char. Chocolate raisins and banana bread. This is a very rich, warming and highly complex nose. Wonderful stuff.
Taste: Salted caramel, dried pineapple, mango and papaya, accompanied by a hint of sweet spices, roasted hazelnuts and a silky-smooth texture that will have you coming back for more.
Finish: Long and slow. It stays long in the mouth and is wonderful amalgamation of all the rich warming flavours that have went before. Comforting and so well balanced throughout.
Worthy Park Single Estate 2006 Aged 12 Years is one of the few official releases from the rising stars of Jamaican rum, Worthy Park. This is their longest aged official release to date, having been taken from the second year of the revived production at the distillery.

The rum is WPL (Worthy Park Light) with an ester count between 60-119 gr/hl AA, a 30 hour fermentation, dry, activated yeast, closed and temperature controlled. The rum was aged in once used ex-bourbon barrels the barrels were filled at an ABV of around 65%. After 12 years ageing at Worthy Park it was bottled at Cask Strength of 56% ABV in 2018. It is non chill filtered with no caramel colouring or additives.

Worthy Park 2006 Single Estate is 100% Pot Still rum. There are 4,000 bottles for the US/Caribbean market and 4,000 for Europe (some of which seem to have made it to Singapore, handily for us). It is the oldest official release of 100% Pot Still rum at Cask Strength from any Jamaican distillery, rather than independent bottlers such as Velier.

A well balanced Jamaican rum that still has plenty of oomph and complexity, landing somewhere between Appleton and Hampden in terms of intensity and hogo, but definitely its own beauty. One of the best pot still rums that money can buy, and needless, to say we like it a lot.

Founded in 1670, Worthy Park Estate has been producing some of Jamaica's finest sugarcane since 1720. Today, Worthy Park is the last remaining Single Estate rum distillery on the island, and one of the last two 100% Jamaican-owned Jamaican rum producers still in operation. The Estate has belonged to the Clarke Family since 1918, now led by Gordon Clarke (4th generation) who sits at the helm as Director, working and living on the property.

Located in St Catherine Parish, close to the geographical center of the island, at an elevation of 1200ft, Worthy Park boasts over 10,000 acres, with approximately 40% devoted to sugarcane. Primarily harvested by hand, the cane is milled and refined at the Estate sugar factory, while the molasses is piped 1km away to the distillery, without ever leaving the property.

Following World War 2, there was an over-supply of Jamaican rum, and under agreement with the Spirits Pool Association of Jamaica, rum production stopped in 1962. However, a new state-of-the-art distillery was completed in 2005 and production resumed, in what is arguably Jamaica's most modern facility, and Worthy Park's distillery is now one of the last three traditional, 100% pot-still, Pure Single rum productions in Jamaica.

The Clarke Family's outstanding and unique spirits have garnered a wide international following, through numerous sourced rum labels and independent bottlers. Worthy Park Rum-Bar was launched as the family's own house brand, and the Single Estate Reserve rums have garnered universal acclaim: truly 100% Jamaican Rum!

| | |
| --- | --- |
| Producer | Worthy Park Distillery |
| Style | Pure Single Pot Still Rum |
| Age | Aged for 12 years in the tropical climate of Jamaica |
| Volume | 70CL |
| ABV | 56% |