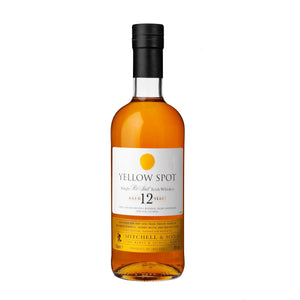 Tasting Notes For Yellow Spot Single Pot Still
Nose: Fresh aroma of mown hay, cracked black pepper, nutmeg, clove oil and green tea. Sweet honey and peaches from the Malaga casks.
Taste: Pot still spices, honey and red apple combine with flavours of creme brulee, fresh coffee and toasted oak all evident throughout.
Finish: Sophisticated and complex with a distinctive honeyed character and a mix of red grape and dry barley on the finish.
This is the recreation of an old brand that once was partnered by Green Spot and Blue Spot whiskeys. The pot still content in Yellow Spot is medium weight, similar to Green Spot but aged for at least 12 years. Interestingly it is drawn from three types of casks. Ex-bourbon and sherry casks are supplemented by some Malaga casks that previously held Pedro Ximenez wine. These PX casks add a good bit of weight, body and flavour, giving an extra dimension to the whiskey. Yellow Spot still retains some of the signature freshness that Green Spot has but offers a definite step up in quality and complexity. It's part of Midleton Distillery's commitment to single pot still whiskey, which is garnering more and more fans around the world as they cotton on to unique qualities of the most traditional of Irish whiskey styles.

Another highly decorated whiskey, here's a sample of awards:

Ultimate Spirits Challenge: 99 points and Chairmans trophy - 2017

San Francisco World Spirits Challenge: Silver medal - 2017

International Spirits Challenge: Gold medal - 2017

Beverage Tasting Institute: Gold medal - 2016

Green Spot is a single pot still Irish whiskey, produced specifically for Mitchell & Son of Dublin, byIrish Distillersat the Middlteon distillery in Co. Cork. It is one of the few remaining bondedIrish whiskeys, and is currently the only brand specifically produced for and sold by an independent wine merchant in Ireland.Mitchell & Son wine merchants were established in 1805; however, it is uncertain exactly when Green Spot was first produced. It is known though, that by the 1920sMitchell& Son were sending their empty barrels to Jameson'sBow Street Distillery to be filled with whiskey, and Jameson in turn were supplying them with at least 200 Sherry barrellsof pot still distilled whiskey per annum.The Mitchells sold a range of whiskeys under their 'Spot' brand name.This name originated from their practice of marking casks of different ages with a daub or spot of coloured paint. There was a Blue Spot, Green Spot, Yellow Spot, and Red Spot representing whiskey aged 7, 10, 12 and 15 years respectively.

| | |
| --- | --- |
| Producer | Produced exclusively for Mitchell & Sons by Irish Distillers for over 100 years. |
| Style | Single Pot Still Whiskey |
| Age | A minimum of 12 years |
| Volume | 70CL |
| ABV | 46% |